Students of College of horticulture, Mysore at Belavala farm!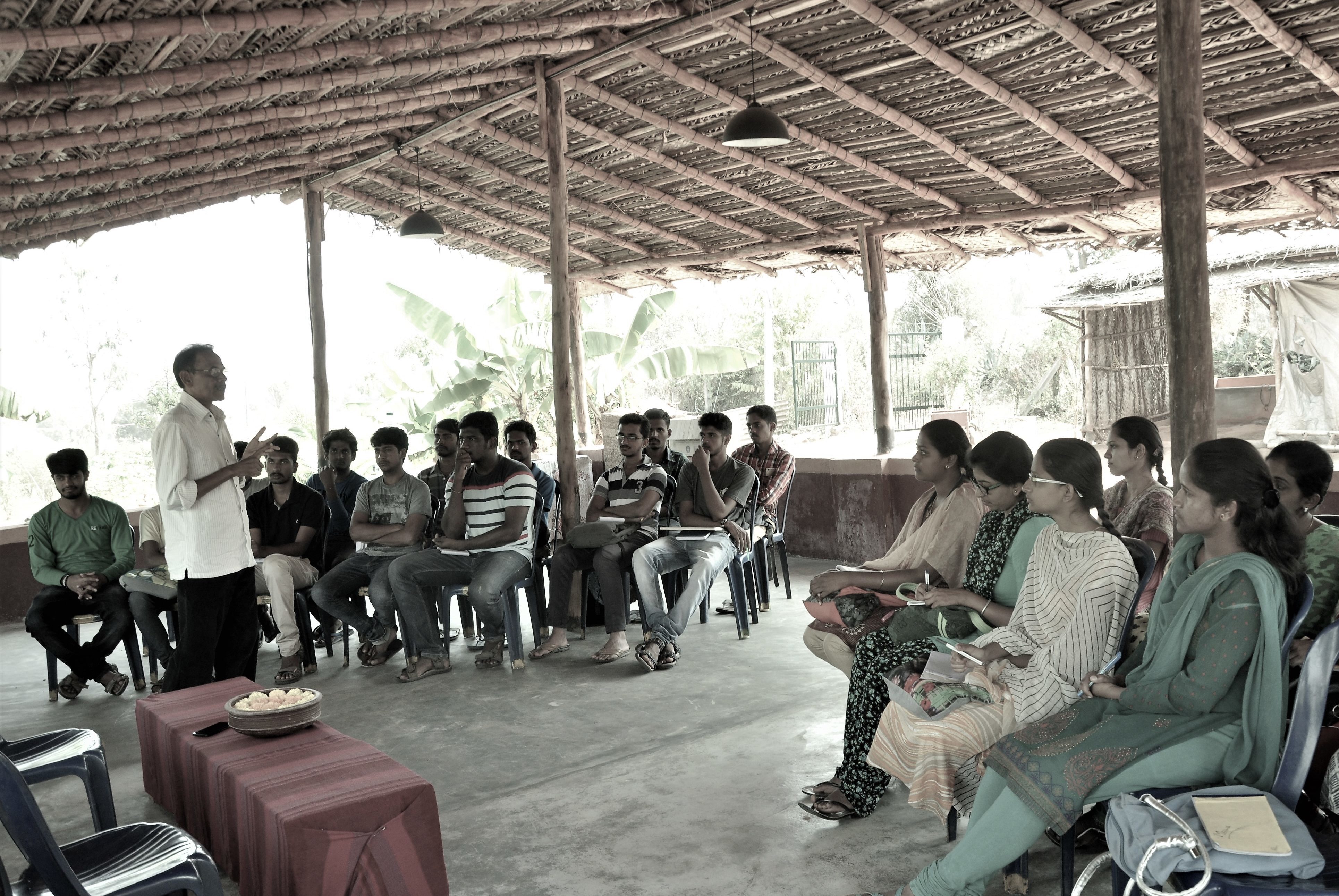 Belavala Foundation wishes to thank the authorities and Final year students, College of Horticulture, Mysure  for taking up 'Work Experience' programme at Belavala Ecological Farm…
It was a great knowledge sharing exercise with hands on experience for everyone.
Fifty four students who came in two batches from 20th to 22nd, Feb 2017 were first introduced to the Philosophy of Ecological Farming and its perspective in the context of the present Agriculture scenario in India as a whole and  Karnataka in particular. They were taken around the farm and were shown the different crop models involving multiple, mixed and inter crops under organic production system.   The need for growing strip crops which provide partial shade for improving the quality and productivity of herbaceous vegetables in dry arid zone conditions were explained.  Exposed them to the rich agro diversity of the farm comprising more than 200 varieties of fruits, vegetables and herbs of which many are indigenous.
Students were involved in preparation of various bio inputs like Bio digester extract, Rasasara, liquid Jeevamrutha, Ghana Jeevamrutha, Panchaghavya etc. The importance of such bio inputs in management of nutrition and bio control of pest and diseases were discussed. Seed treatment with Panchaghavya, sowing carrot seeds mixed with bio manures, planting tomato, local marigold as trap crop, weeding and bio mulching were part of the practicals. Integration of animals to improve farm output was discussed. Low cost green houses constructed at the farm for protected cultivation of greens like spinach, kale, lettuce etc during off seasons were shown.  Role of Madhugiri, a first generation variety of pomegranate as root stock in grafting of other improved varieties were explained.
On 22nd group discussions and presentations were held on subjects like ; a) SWOT analysis of the Indian Agrarian Sector, b) Vision, mission and strategies for promoting ecological agriculture in Karnataka, c) Opportunities' and threats for Belavala farm, and d) Natural resource management and cropping systems to be adopted in different agro climatic zones of the state. All the groups made excellent analysis and presentation of the subjects entrusted to them. However, for academic records, the group given with the subject (b) was the best for the day, followed by (c), (a) and (d) groups.
Students although came here with an open mind on organic farming, initially they were skeptical about the philosophy of ecological farming in the context of food security, pest and disease control etc. They are not to be blamed, as their course curriculum has been designed entirely on industrial agriculture model with chemical inputs……….hope they will get more and more opportunities to study and believe in sustainable farming system.
Belavala Foundation wishes all the students a great carrier ahead and welcomes them to join 'Belavala family' in taking Agro ecology as the main stream agriculture production system in India.
Address: Belagula, Srirangapatna Tq, Mandya Dist, Karnataka, India
For further enquiries contact us.
---
---